Irby Lovette, Natalie Hoffmeister, and Liz Clayton Fuller just returned from teaching the field component of our three-course Galápagos curriculum, now in its 7th year. This year's trip seemed to be characterized by sexual selection in action: giant tortoises loudly mating, blue-footed boobies dancing, marine iguana females battling over nesting burrows, swallow-tailed gulls courting, and much more. As usual we greatly appreciated the contributions of Fausto Rodriguez, and on this trip we all had a wonderful time experiencing the Galápagos in concert with two very special Cornell guests.
The landform in the background of the group photo is Leon Dormido, also named Kicker Rock in English. Darwin sketched it from this same perspective on his visit in 1835, as copied below:
Darwin's version: "At the distance of a few miles from these two craters, stands the Kicker rock, or islet, remarkable from its singular form. It is unstratified, and is composed of compact tuff, in parts having the resin-like fracture. It is probable that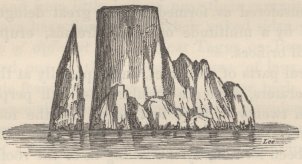 THE KICKER ROCK,—400 feet high.
this amorphous mass, like that similar mass in the case first described, once filled up the central hollow of a crater, and that its flanks, or sloping walls, have since been worn quite away by the sea, in which it stands exposed."
GEOLOGICAL OBSERVATIONS ON THE VOLCANIC ISLANDS,
VISITED DURING THE VOYAGE OF H. M. S. BEAGLE,
TOGETHER WITH
SOME BRIEF NOTICES ON THE GEOLOGY OF AUSTRALIA AND
THE CAPE OF GOOD HOPE.
BEING THE SECOND PART OF
THE GEOLOGY OF THE VOYAGE OF THE BEAGLE,
UNDER THE COMMAND OF CAPT. FITZROY, R.N.
DURING THE YEARS 1832 TO 1836.
BY
CHARLES DARWIN, M.A., F.R.S.,
VICE-PRESIDENT OF THE GEOLOGICAL SOCIETY, AND NATURALIST TO THE EXPEDITION.
Published with the Approval of the Lords Commissioners of
Her Majesty's Treasury.
LONDON:
SMITH, ELDER AND CO., 65, CORNHILL.
1844.